This south Indian khichdi made with moong dal, Rice, and spices is a simple, healthy, and hearty Indian Meal. This delicious dal khichdi is protein-packed and super comforting and flavorful that you will love it. Made in less than 20 minutes, It is an easy one-pot dish that needs only pantry staples.
Ingredients for Khichdi Recipe: serve 4 people
Moong Dal: 100g
Toor Dal: 100g
Rice: 200g
Healthy Fibres Cow Ghee: 4 tbsp
Healthy Fibres Cold Pressed Coconut/Groundnut Oil: 2 tbsp
Garlic pod: 8-9
Mustard seeds: 1/4 tsp
Hing :1 Pinch
Cumin seeds: 1/2 tsp
Green chilli: 2 Nos
Dry red chilli (2+2)
Curry leaves: 1 sprig
Coriander leaves chopped: 2 Tbsp
Whole pepper: 7-8 pieces
Tomato medium 2
Onion: 2 medium size
Healthy Fibres Lakadong Turmeric Powder: 1/4 tsp
Rasam Powder: (1+0.5) tbsp
Healthy Fibres Kashmiri Red Chilli Powder: (1/2+1/4) tsp
Salt to taste
Tamarind 1 marble size
Water 1.2 Litres
Method-
Wash and drain the Rice and keep it separately for up to 20 mins before starting cooking.
Heat Healthy Fibres Cold Pressed Coconut/Groundnut oil in a pressure cooker to the required temperature.
Add mustard, cumin, whole pepper, and slit Green chilies to the heated oil, and temper it well. Add onion, red chilies, garlic pods, and hing to it and stir well. Then, add freshly cut tomatoes to the cooker.
Add curry leaves and allow it to fry half for extra aroma.
Once the onion turns translucent, add Rasam Powder 1 tbsp, Healthy Fibres Kashmiri Lal chilly powder 1/2 tsp, A pinch of Healthy FIbres Lakadong Turmeric powder, and salt to taste.
Later, add moong dal and toor dal, and stir gently with Healthy Fibres Pure Cow Ghee. Add Rice along with Tamarind water and chopped coriander leaves into the cooker. As a final touch, add a tbsp of Healthy Fibres Cow Ghee for that aromatic blast.
Add warm water (1:3) and close the cooker lid.
Wait for 1 whistle on high flame and another on simmer flame. Allow the cooker to cool down.
Tips: As per your taste and liking, you can add hot water for consistency
Give final tadka. Heat Healthy Fibres Cow Ghee in a different pan; add 2 Red Chillies, Rasam Powder 0.5 tbsp, Healthy Fibres Kashmiri Lal Chilly Powder 1/4 tsp. Add the Tadka into the preparation.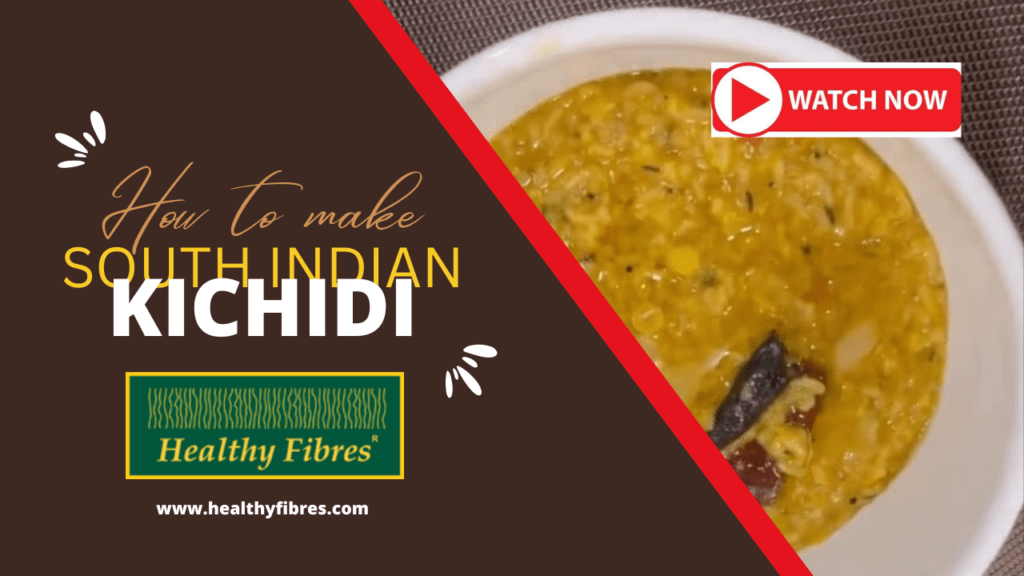 Mix it with aromatic ghee and serve it to your family and friends.
Follow us on