A Journey Towards Healthier Kitchens
Introduction: In today's fast-paced world, health concerns have become a paramount issue for individuals and families alike. The rising incidence of fatal health conditions, like cancer, has led many to explore healthier lifestyles. One such inspiring initiative that emerged in response to this growing concern is "Healthy Fibres." Founded by Anjana Kamath, an Industrial Engineer with a personal connection to cancer, the company set out on a mission to offer a long-term solution to society by providing traditionally extracted, chemical-free, cold-pressed cooking oils.
The seeds of Healthy Fibres were sown in the depths of tragedy, as Anjana Kamath lost several family members and relatives to the scourge of cancer. The heart-wrenching experience motivated her to embark on a profound research journey to understand the causes of such fatal health issues. Delving deeper into the subject, Anjana discovered a recurring link between consuming food prepared using unhealthy, refined, and adulterated cooking oils.
Armed with knowledge and determination, Anjana Kamath made it her mission to create a positive impact on society's health. She envisioned a world where people could have access to healthier alternatives, ensuring the retention of natural nutrients and goodness in the food they consume. Thus, the idea of Healthy Fibres was born – a venture committed to offering traditionally extracted cooking oils through state-of-the-art modern machinery.
The Distinct Approach: Central to Healthy Fibres' philosophy is the innovative extraction process. By utilizing cutting-edge technology, the company ensures that oils are extracted at the coolest temperature, safeguarding the preservation of essential nutrients. Moreover, their patented technology guarantees the lowest Free Fatty Acids in every drop of oil, a testament to their dedication to providing the utmost quality to their customers.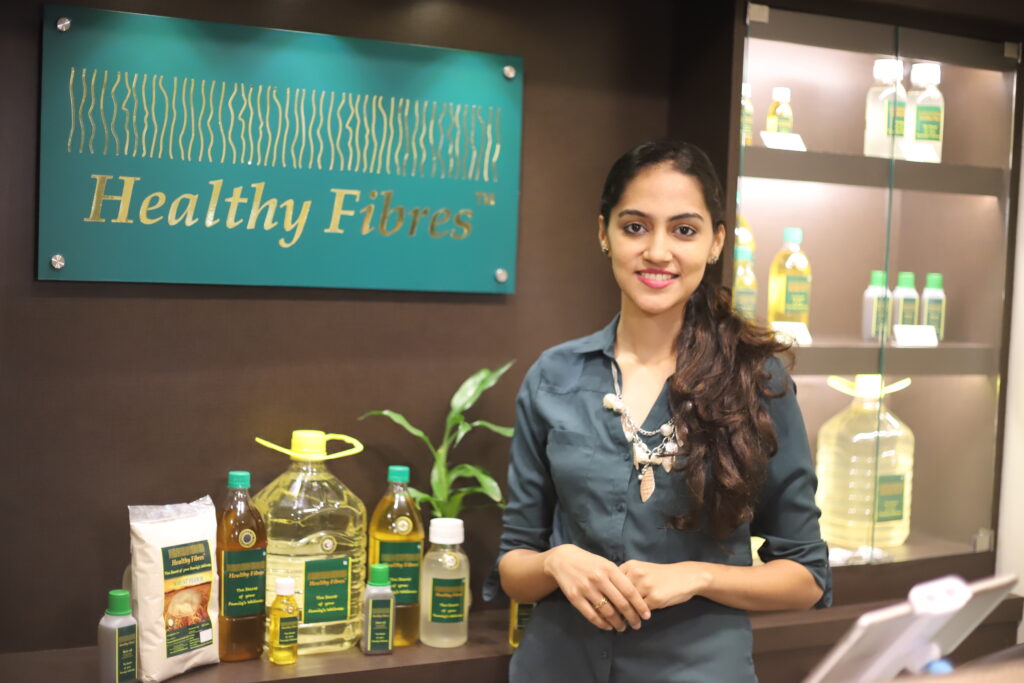 Our Founder Anjana Kamath
In 2019, Healthy Fibres took its first stride by opening an exclusive experience store in Mangalore. This store not only served as a point of sale but also acted as an educational hub, enlightening customers about the health benefits of their cooking oils. The positive response from the market further motivated the company, and within a year, a second experience store was inaugurated in Bangalore.
The rapid growth and success of Healthy Fibres could be attributed to its unwavering commitment to health-conscious customers. Today, the company caters to over 20,000 families enrolled in its Milleans Club Program, a testament to the trust and loyalty. Furthermore, Healthy Fibres' reach expanded exponentially through e-commerce platforms, with its products now available on more than 30 national and international marketplaces.
Buoyed by its domestic popularity, Healthy Fibres set its sights on the international market. Its products earned recognition beyond borders, leading to ambitious plans for overseas expansion. The company's vision of reaching every Indian kitchen within a decade demonstrates its dedication to spreading health and wellness far and wide.
Healthy Fibres stands as a shining example of how personal tragedies can fuel the passion to create positive change in society. Anjana Kamath's determination to tackle health issues through the provision of healthy cooking oils has led to a remarkable journey of growth and impact. Healthy Fibres is poised to revolutionize Indian kitchens, one drop of traditionally extracted oil at a time.